VENDOR & THIRD PARTY RISK EUROPE
15-16 November, 2022 | London
REGULATION
Reviewing heightened complexity of global regulations and divergence in expectations
EXIT PLANNING
Developing exit plans and business resilience in the event of a supplier outage
ESG
Incorporating ESG into onboarding process and ongoing assurance to monitor impact of risks including climate across third parties
FOURTH PARTIES
Enhancing transparency across the supply chain and determining risk exposure beyond fourth parties
CYBER RISK
Reviewing best practice for managing heightened cyber risks in an increasingly digital environment
ONBOARDING
Updating onboarding practices and alignment of teams for effective oversight and management of risks
ON-SITE ASSESSMENTS
Reviewing future on on-site assessments and lessons learnt from remote working and reviews
CONCENTRATION RISK
Developing standards to measure concentration risks with use of certain companies or geographies within supply chain
Ayesha James
Regional Head of Operational and Resilience Risk
HSBC
Julie Hoesli-Stewart
Executive Director
UBS
Louise Waite
Supply Chain Management and Assurance Director
Lloyds Banking Group
Shamial Afzal
Strategic Supplier Oversight
Legal & General Investment Management (LGIM)

Abhishek Khare
Director, UK Third Party Management
Societe Generale
Kishan Majithia
Executive Director, Technology and Information Risk
Morgan Stanley
Mike Day
Head of UK&I Third Party Management
RSA Insurance Group
Julie Hubbard
Chief Controls Officer – Business Operations
OneSavings Bank
Sean Miles
Associate Director, Risk
comparethemarket.com
Jon Leather
Head of Third Party Risk Oversight
Standard Chartered Bank
CAN YOUR ORGANIZATION CONTRIBUTE?
Please contact the Center for Financial Professionals today to discuss how we can deliver your thought-leadership at the event, help you generate leads, and provide you with unique networking and branding opportunities. For more information on what we can offer, please contact chris.simou@cefpro.com or call us on +44 (0) 203 994 6987 where a member of the team will be happy to tailor the right package for you.
.
Adelani Adesida
Account Executive
Aravo Solutions
Biography
Adelani is an Account Executive with Aravo Solutions, a pioneer within the Third Party Risk Management technology sector.
Having invested a decade within the Integrated Risk Management industry, Adelani brings a wealth of experience with a strong track-record of sales, account management and project delivery across numerous risk domains.
Adelani has been a key member in numerous award-winning implementation projects and, in part part due to being an avid gamer, has a close interest in Information Security and CyberSecurity programs.
Charitable works including participation in the Aleto Foundation's Future Leaders mentorship program and a Board Member of Dream Nation.
Shamial Afzal
Strategic Supplier Oversight
Legal & General Investment Management (LGIM)
Biography
With over 25 years financial services experience, Shamial has worked in insurance, banks and now investment management firm leading the strategic supplier oversight agenda globally.
Shamial has a passion to build inclusive and diverse teams which have been demonstrated through his various roles which have included operations, change and supply chain management.
Shamial continues to challenge the status quo and drive the supplier oversight agenda forward as critical part of any firm dealing with third parties.
Ian Burgess
Director – Cyber and Third Party Risk
UK Finance
Biography
Ian leads UK Finance's operational and policy work on cybersecurity and third party risk management. In this role he engages with key industry stakeholders to determine the applicability of collective action on behalf of the financial sector. Through this engagement he is currently creating a single standard to assess the resilience of critical suppliers, having previously operationalised the Financial Sector Cyber Collaboration Centre (FSCCC), an industry utility designed to promote cyber intelligence sharing amongst financial institutions.
Before joining UK Finance Ian worked for BNY Mellon, where amongst other things he led the development and deployment of a global system to map technology risk regulatory controls to global cyber, technology and data privacy regulations. Prior to this he served as a British Army Officer for eight years.
Tendai Bwanya
Director, Quality Assurance, Risk & Controls
Franklin Templeton
Biography
Tendai is a director at Franklin Templeton, an investment manager with $1.5 trillion in assets under management. His global role focuses on risk management of investment operations across the US, EMEA and APAC. He is responsible for developing and coordinating the program of oversight activities for key fund service providers, developing the strategic plan around third-party partners, technology and product/regulatory change.
Tendai started his career in assurance and advisory services with Deloitte, where he advised some of the world's largest firms in investment management and private equity sectors. He has vast experience in setting up oversight and governance frameworks in financial services firms. He has also led projects in transaction banking, financial markets and capital markets.
Tendai is passionate about people, leadership, diversity and inclusion and financial education. He has served and continues to serve in various capacities to support these causes.
A qualified Chartered Accountant, Tendai is a member of the Institute of Chartered Accountants in England and Wales (ICAEW) and the Institute of Chartered Accountants of Zimbabwe (ICAZ).
Desmond Campbell
Programme Lead – TPRM/BRM
Vodafone
Biography
An Alumni of De Monfort University & London Metropolitan University, Demond is a seasoned Third-Party Risk Management Lead as well as a specialist in Supplier Relationship Management. He has worked both in the Public and Private sectors gaining foundational experience at London Underground over a 17 year career. He has also worked for Deutsche Bank, HSBC and now with Vodafone leading on Global Third Party Risk programme implementation.
Simon Chard
Managing Director in Platforms, Regulatory and Compliance, Global Business Development
KY3P, S&P Global
Biography
Prior to joining IHS Markit in May 2021, Mr Chard was a Partner at PwC based in London. Mr Chard is an experienced and trusted Board level advisor to a wide range of globally significant financial institutions. He has advised on technology strategy, resilience, risk, control and assurance models. He led the global enterprise resilience proposition at PwC and has worked with clients across APAC, the Middle East, North America and Europe. He has held senior leadership roles in the Technology, Data and Analytics group and in the Banking & Capital Markets group of PwC.
Mr. Chard has extensive experience in designing, transitioning and leading managed service programmes to drive efficiency in large clients. He has provided evidence to the UK Treasury Select Committee, been appointed on multiple occasions as a Skilled Person to conduct UK financial services regulatory reviews and advised the Prudential Regulation Authority. Prior to joining PwC, he established and led the third-party risk practice at Deloitte for five years. In this role he worked with clients across a range of industries including government, life sciences, technology and media and oil and gas. He holds a BSc in Industrial Business Systems, an MBA from Warwick and is a qualified chartered accountant.
Mike Day
Head of UK&I Third Party Management
RSA Insurance Group
Biography
Mike is Head of UK&I Third Party Management at RSA Insurance. Joining in March 2017 to focus on identifying and unlocking global IT Procurement opportunities and increasing collaboration between regions on procurement initiatives, he moved into Third Party Management in 2019 to implement a new programme and has subsequently run the function since. Mike is currently running the TPMv2 project to enhance the processes and frameworks to meet the new regulatory requirements
Previous to joining RSA Mike has held senior IT Procurement and Third Party Risk roles across a number of sectors, including roles at Zurich Insurance, EY, Morgan Stanley, Inmarsat and O2. He was the European lead for setting up the global Morgan Stanley Supplier Risk process in 2009/10
Mike is married with three children but still finds time to enjoy playing football and cricket – the rest of his time is spent on family crowd control
Mark DeLuca
Value Management
Coupa
Biography
With over a decade of domain experience, Mark has participated in dozens of third-party risk transformations globally. As a pioneer in the space, Mark learned the business by working with financial services firms in the aftermath of the financial crisis. As those early programs matured, patterns emerged and Mark became a frequent speaker at industry events promoting practices that deliver long term success.
Alex Dorlandt
Head of Supply Chain Risk
Lloyds Banking Group
Biography
Alex is Head of Supply Chain Risk for Lloyds Banking Group (LBG), responsible for ensuring that the supplier onboarding & management frameworks drive effective risk management and regulatory compliance. Alex has worked with LBG for 10 years, and has over 20 year experience in Sourcing and Supply Chain Risk.
Jackie Downes
Supply Chain Sustainability
Lloyds Banking Group
Biography
Jackie is currently part of the team driving and enhancing environmental sustainability and wider ESG  into the LBG supply chain. This includes leading the Group's engagement with CDP as a supply chain member and reviewing the wider ESG expectations and requirements placed on the Group's suppliers. Prior to joining the Group, Jackie spent over 20 years working in sustainability consultancy supporting clients in the IT, telecoms, FMCG and food and beverage sectors.
Natalie Druckmann
Senior Value Solutions Consultant
Coupa
Biography
Over close to 10 years Natalie has led the implementation of multiple TPRM transformation programs across both private and public sectors, managed live operations focussing on ensuring continuous compliance and drove organizations to future-proof their Risk programs.
As Natalie gained experience in the TPRM field she became a go-to advisor when it comes to implementing Best Practice and providing consistent, measurable and target driven results.
Samikendra Ghosh
Global Third Party Risk Lead
HSBC
Biography
18+ Years' Experience – Seasoned and dynamic professional with core experience in operational risk and internal control across varied functional and operational roles involving Operational Risk Management, Supplier Risk / Third Party/ Vendor Management, Business Management covering Strategy .
Currently head Third Party Risk for HSBC's Retail & Private Banking business globally , covering risk management support, subject matter expertise, leadership and direction for Third Party Risk related activities and issues. Specialize in developing Third Party Risk strategy, design and implementation across retail markets and using data driven based risk management and analytical tools to design and develop business Risk Appetite Statement and KI measures related to Third Party Risk.
Will Gray
Field Sales Director – EMEA
SecurityScorecard
Biography
Will Gray has 18 years experience in Security and Risk Management, primarily focused on bringing emerging technologies to market.
Having joined SecurityScorecard in 2018, when Cyber Risk Ratings was a nascent industry, he has seen a rapid rise in adoption of the concept which now underpins board reports, risk management discussions, supply chain security assessments and cyber insurance underwriting for 1000's of organisations globally.
Julie Hubbard
Chief Controls Officer – Business Operations
OneSavings Bank
Biography
Julie is speaking at Vendor & Third Party Risk Europe
Stephen Jack
Global Head of Third Party Management, Managing Director
Deutsche Bank
Biography
Steve Jack is the Global Head of Third Party Management for Deutsche Bank. In this capacity, Steve is responsible for the day-to-day management of the third party risk process, as well as the Bank's transformation activities in this space. Steve joined DB in 2003 and has held numerous positions across the Bank, including roles in Real Estate, Procurement, Finance, Risk and the Chief Operating Office. Prior to DB, Steve was an investment writer, editor and financial journalist.
Ayesha James
Regional Head of Operational and Resilience Risk
HSBC
Biography
Ayesha James is the HSBC Group Third Party Risk Steward and Regional Head of Operational and Resilience Risk for Europe.  Her role covers all aspects of operational risk, resilience risk and third party risk management.
Prior to this role, Ayesha was Chief Control Officer, reporting to the COO of HSBC UK, where she worked on the establishment of the ring-fenced bank, and the early roll out of Third Party Risk Management.  In her early career she worked as a technology and outsourcing lawyer.
Ayesha lives in Berkshire with her husband, two sons and their dog.  She is a keen runner and baker – hobbies which luckily balance each other out.
Abhishek Khare
Director, UK Third Party Management
Societe Generale
Biography
Abhishek Khare is responsible for managing outsourcing risks for Societe Generale EMEA. He joined SGCIB in 2011 where he held various senior management roles in CIB Operations at Bangalore and Hong Kong before coming to London team in October 2016. His previous employers include Nomura, Lehman Brothers, Wipro, Franklin Templeton and Deloitte consulting. With several years of experience in managing operations in capital markets, mutual funds, vendors & audit firms, his key competence is a combination of operational risk, off-shoring and outsourcing oversight.
Fred Kneip
Founder and CEO
CyberGRX
Biography
Fred Kneip founded CyberGRX in 2016 with a threefold vision: to make a difference in the world, to solve hard problems and to create a company that he (and his colleagues) would enjoy working for. With third-party cyber incidents reaching unprecedented levels, Fred established CyberGRX's mission to build the world's most comprehensive cyber risk data set, and launched the world's first and largest cyber risk exchange. As CEO, Fred is responsible for guiding CyberGRX's overall direction and strategy, developing its leadership team, and fostering its unique culture
Prior to founding CyberGRX, Fred held senior management positions at Bridgewater Associates, including head of compliance and head of security.
As an associate principal at Mckinsey &Co, Fred co led the company's corporate finance division. An experienced investor, he's also worked with two later stage private equity investment firms.
He holds a B.S.E from Princeton University and an M.B.A from Columbia Business School.
Thibault Lapédagne
Cybersecurity Research Director
CyberVadis
Biography
Since CyberVadis creation Thibault Lapédagne has been at the heart of the cybersecurity assessment department. Having his professional background in consulting (Wavestone) he created the CyberVadis reference model and the processes to assess a company's cybersecurity performance. Today he manages an international team of cybersecurity experts responsible for all assessment operations. Thibault Lapédagne participates in cybersecurity events as a keynote speaker to raise awareness on the importance of third-party cybersecurity risk assessments and CyberVadis methodology.
Jon Leather
Head of Third Party Risk Oversight
Standard Chartered Bank
Biography
Jon is speaking at Vendor & Third Party Risk Europe
Steve Marwood
Head of TPRM
LSEG
Biography
Steve is speaking at Vendor & Third Party Risk Europe
Victor Meyer
COO
Supply Wisdom
Biography
Victor Meyer is Chief Operating Officer at Supply Wisdom, the leader in continuous risk intelligence. A former U.S. Navy SEAL, Victor Meyer held a wide variety of roles at Deutsche Bank from Group Head of Operational and Anti-Fraud Risk to group-wide responsibility for Third Party Risk Management, Information Security and Operational Resilience. He was also a former Vice-Chairman of the World Economic Forum's Global Agenda Forums for Pandemic and Catastrophic Risk.
Sean Miles
Associate Director, Risk
comparethemarket.com
Biography
I'm the Head of the Risk for the Motor Insurers Bureau responsible for implementing and overseeing the risk and control compliance plan for MIB. Previously I've held Head of Risk roles at Pay.UK, Santander and Barclaycard.
Matthew Moog
General Manager, Third-Party Risk
OneTrust
Biography
Matthew Moog serves as the General Manager, Third-Party Risk at OneTrust, the category-defining enterprise platform to operationalize trust. In his role, Matthew advises companies throughout their third-party risk management implementations to help meet requirements relating to relevant standards, frameworks, and laws. Prior to joining OneTrust, Matthew spent 18 years at EY where he led their Global Third-party Risk offering for Financial Services and their Third-party Risk Managed Service offering for the Americas.  Moog is a CISA and has a BS in Management Information systems from Rensselaer Polytechnic Institute in Troy, NY.
Andrew Moyad
Chief Executive Officer
Shared Assessments
Biography
Andrew Moyad is the Chief Executive Officer of Shared Assessments.
Andrew is an accomplished leader and trailblazer in third party risk management. As a practitioner and a senior risk management executive, he has driven a culture of accountability and diligence in safeguarding information. Andrew has more than 25 years in risk management and information security. He has contributed greatly to the transformation and advancement of risk management as a strategic function that intersects with and helps guide all aspects of organizations.
Most recently, Andrew served as Senior Vice President, Vendor Risk Management at Blackstone, where he led a team of risk professionals responsible for overseeing all phases of the vendor lifecycle at the firm, including risk assessments, control diligence, contract reviews, financial checks, performance monitoring, issue tracking, and management reporting. Prior to Blackstone, he served as a director and global head of vendor risk management and BlackRock and Senior Vice President for Citigroup, where he was a Business Information Security Officer in Global Fixed Income and led third party risk assessments for several years.
Andrew holds a Bachelor of Arts Degree in Natural Sciences from Harvard University and a Master of Science Degree in Information Systems from the Stevens Institute of Technology.
Andy Mutton
Enterprise Account Executive
CyberVadis
Biography
Andy Mutton is an Enterprise Client Engagement Executive with CyberVadis, helping our clients establish programs for Third-party Cyber Risk Management. He has over 30 years' customer-facing experience in the software, IT services and technology sector, and enjoys working collaboratively to solve client's business challenges
Andy Natesan
Operational Risk Manager
Levizo Limited
Biography
Andy Natesan, Founder & Director at Levizo with over 17 years of extensive experience in Risk & Control Frameworks, Third Party Risk /Vendor Risk Management (VRM / TPRM), Information Risk Management (IRM), Third-party Risk Oversight, Legal, Regulatory & Contract Compliance. He has worked with Admiral Group, Shell, Euroclear, BP, Deutsche Bank, Barclays, HSBC in a variety of roles across third-party risk / supply chain risk, operational risk, information risk management.
Rizwan Nazir
Director
PwC UK Financial Services
Biography
Rizwan Nazir is a Director in PwC's Resilience & Risk Management Practice in London.  He has 20 years of consulting experience delivering a range of third party risk management (TPRM), technology risk, cyber security, and assurance related services to large global financial services (FS) clients.
Rizwan specialises in leading global TPRM programmes and has led several major initiatives across the FS market.  He has helped to design, implement, operationalise, standardise, and optimise complex TPRM initiatives across a range of firms.  He is also responsible for leading and overseeing PwC's TPRM delivery portfolio across the firm's clients and the market, helping to drive growth and create value in the most challenging environments.
Jon O'Brien
Managing Director, Consulting
Crossword Cybersecurity
Biography
Jon joined Crossword from BAE Systems Applied Intelligence ('AI'), the plc's Cyber Security Consulting Managed Security Services, and software product business where he was CIO & Security Director.  Jon had been with the AI business since its Detica days prior to acquisition by BAES.
He built on his experience in the National Security sector from that period, leading the acquisition and integration of 4 internationally-distributed commercial security businesses into a single global cyber security business with a diverse client base, ultimately heading up a global team of over 250 Security subject matter experts.
In 1999 Jon was awarded a PhD from Lancaster University in Methods for Corporate Requirements Capture, Collaborative Systems Design.
Brian Shaw
Director of Financial Services Sales
Mirato
Biography
Brian has worked in business process automation targeting risk and compliance for over 25 years, supporting hundreds of fortune 500 and mid-market firms across all industries.  Since 2011 Brian has focused on Third-Party Risk, Compliance and Performance Management for the Financial Services Industry, as well as Master Data Management and Know your Customer (KYC) challenges. At Mirato, Brian serves as Director of Financial Services Sales responsible for sales to Financial Services firms in North America and Europe
Ian Trinder
Director
PwC UK Financial Services
Biography
Ian is a Director in the PwC UK Financial Services practice, with 13 years experience in third party risk management (TPRM), cybersecurity, and assurance.
Ian has worked extensively with a number of the world's leading financial institutions and has helped design, implement, and optimise third party risk management programmes in complex and distributed environments. He has helped a number of large international Banks and Investment Management firms stand-up, operationalise, or streamline existing programs in order to increase value or remove cost. He leads PwC's EMEA-wide TPRM centre of excellence, ensuring standards and methodology are consistently applied and delivered.
Ian also has significant experience with the broader non-financial risk agenda, delivering advisory and regulatory driven engagements around cybersecurity, technology, resilience, and privacy.
Shayne Tyler
Former Compliance Director
Fresca Group
Biography
Shayne Tyler is a highly experienced practitioner in the identification, investigation and resolution of worker welfare issues with experiences that span many hundreds of cases affecting many thousands of victims.  A practical and hands on Director with over 30 years of people leadership within the food industry.  He relies on over 22 years of experience directly managing variable levels of employee exploitation situations, where he has actively helped shape legislation, guidance, best practice and support mechanisms for the prevention and eradication of worker abuse.
Shayne now partners an organisation with the specific goal to share experiences and help clients understand not just what to do, but more importantly how to do it.
His practical knowledge gives organisations the tools to Prevent, the skills to Prepare for those situations they cannot prevent and the knowledge and understanding to both Protect and Pursue all stakeholders in the subsequent investigations.
Having had 'first hand' experience that has identified and tackled numerous examples of worker exploitation for such an extended timeframe, Shayne offers a valuable perspective in the fight to improve worker welfare.
Atul Vashistha
Chairman and CEO
Supply Wisdom
Biography
Atul is speaking at Vendor & Third Party Risk Europe 2022
Louise Waite
Supply Chain Management and Assurance Director
Lloyds Banking Group
Biography
Louise Waite is the Supply Chain Management & Assurance Director at Lloyds Banking Group. She leads a team of 50, delivering a group-wide approach to supplier risk assessment, supplier assurance and supplier management. Louise and her team maintain an effective Supply Chain Management framework, run a Centre of Excellence for Supplier Management and conduct hundreds of assurance reviews every year. Having spent several years in the IT and Pharmaceutical industries, Louise is enjoying her return to Financial Services where she started her Procurement career.

WHY SHOULD YOU ATTEND A CEFPRO CONFERENCE?




HEAR FROM PAST ATTENDEES AND SPEAKERS…
Interactive panel discussions are designed to include attendees by running a live Q&A throughout the session
Hear industry experts provide detailed insights on a range of vendor risk issues, challenges and opportunities
 Networking opportunities including breakfast, lunch and refreshment breaks on both days, access to all streams and sessions.
Continue discussions beyond the auditorium and interact with speakers and attendees after their session.
June 10, 2022
The views and opinions expressed in this article are those of the thought leaders as individuals, and are not attributed to CeFPro or any particular organization.
[…]
Non-Financial Risk Leaders 2022
Non-Financial Risk Leaders strives to provide insights, support, and benchmarks for organizations as the traditional operational and non-financial risk arena continues to evolve, expand, and gain significance.
Take part in our survey and contribute your knowledge towards one of the most comprehensive business reports in the industry, recognized by experts as a go-to resource.
All respondents have an option to receive a complimentary copy of the final report.
Aravo delivers the market's smartest third-party risk and performance management solutions, powered by intelligent automation.
With Aravo, customers can work smarter, move faster, see clearer, and make better decisions about their extended enterprise – all in one place.
For more than 20 years now, Aravo's combination of award-winning technology and unrivaled domain expertise has helped the world's most respected brands accelerate and optimize their third-party management programs, delivering better business outcomes faster and ensuring the agility to adapt as programs evolve.
Aravo is trusted by the world's leading brands, helping them manage the risk and improve the performance of more than 5 million third parties, suppliers and vendors across the globe.
Coupa is the cloud-based Business Spend Management (BSM) platform that unifies processes across supply chain, procurement, and finance functions. Coupa empowers organizations around the world to maximize value and operationalize purpose through their business spend. Coupa's community of 2,500+ customers use the platform to maximize the value of more than $3.3T of direct and indirect spend to date.
To learn more about Coupa, visit www.coupa.com and follow us on LinkedIn or Twitter.
The Most Reliable Security Ratings
Manage your third party risk worldwide with evidence-based assessments
CyberVadis is a cost-effective and scalable solution for third party cybersecurity risk assessments. Our methodology maps to all major international compliance standards including NIST Cybersecurity, ISO 27001, GDPR and several business specific frameworks. Our solution combines the speed of automation with the accuracy and effectiveness of a team of infosecurity experts, providing evidence-based assessments.
S&P Global (NYSE: SPGI) provides essential intelligence. We enable governments, businesses and individuals with the right data, expertise and connected technology so that they can make decisions with conviction. From helping our customers assess new investments to guiding them through ESG and energy transition across supply chains, we unlock new opportunities, solve challenges and accelerate progress for the world.​
We are widely sought after by many of the world's leading organizations to provide credit ratings, benchmarks, analytics and workflow solutions in the global capital, commodity and automotive markets. With every one of our offerings, we help the world's leading organizations plan for tomorrow, today. For more information, visit www.spglobal.com.
While traditional TPRM solutions automate workflow, Mirato automates the actual manual work. Using natural language processing (NLP) and advanced artificial intelligence (AI), Mirato contextualizes the information in your TPRM evidence and data sources and completes your assessments for you, validating and documenting the controls in the process and automating the audit trail. It streamlines your entire operation's data into one smart platform.
The overall result is a significant reduction in money and time spent on the manual effort, workflow, and monitoring (cuts up to 60% of assessment costs). It also ensures improved accuracy, process integrity, and TPRM effectiveness.
Mirato TPRM INTELLIGENCE allows you to assess new risks instantly and provide true continuous monitoring and true concentration risk. As Mirato is configured to your program, using your current platforms, data sources, and partners, it allows you to maximize the value of your existing technology, subscription, and service provider investments.
OneTrust Vendorpedia™ is the largest and most widely-used technology platform to operationalize third-party risk. The offering enables both enterprises and their vendors with technology solutions that include: the Third-Party Risk Exchange, a community of shared (and pre-completed) vendor risk assessments with 70,000+ participating vendors; Questionnaire Response Automation, a tool that helps organizations answer incoming security questionnaires; and Third-Party Risk Management software, a platform to streamline the entire vendor lifecycle, from onboarding to offboarding. More than 8,000 customers of all sizes use OneTrust, which is powered by 150 awarded patents, to offer the most depth and breadth of any third-party risk, security, and privacy solution in the market. OneTrust Vendorpedia offers purpose-built software designed to help organizations manage vendor relationships with confidence, including and integrates seamlessly with the entire OneTrust platform, including – OneTrust Privacy Management Software, OneTrust DataDiscovery™, OneTrust DataGovernance™, OneTrust GRC, OneTrust Ethics, OneTrust PreferenceChoice™, OneTrust ESG, and OneTrust DataGuidance™.
PwC is one of the leading professional services networks in the world. We are a community of solvers combining human ingenuity, experience and technology innovation to deliver sustained outcomes. Our purpose is to build trust in society and solve important problems. It is this focus which informs the services we provide and the decisions we make.
Shared Assessments is a global membership organization dedicated to developing the best practices, education and tools to drive third party risk assurance. We are creators of the industry standard third party risk toolkit, used by over 15,000 organizations worldwide.
Supply Wisdom's patented solution is transforming the way supply chain, procurement and third-party risk leaders manage risks and operational resilience. Supply Wisdom delivers continuous third-party and location risk intelligence and risk actions in real-time across the widest risk aperture to minimize the risks of disruption facing business, supply chains and third parties. Supply Wisdom intelligence enables enterprises to prioritize, move faster, do more with less resources, and act proactively and confidently. ​
For more information, visit www.supplywisdom.com and follow us on https://www.linkedin.com/company/supplywisdom
SHARE YOUR THOUGHT LEADERSHIP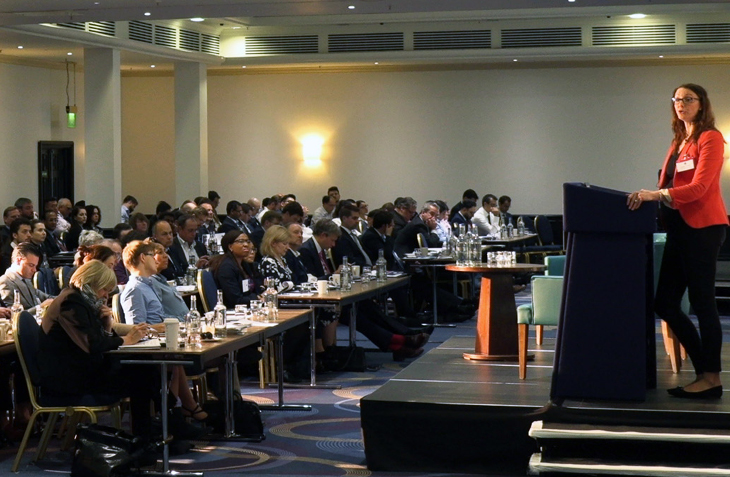 CONNECT WITH SENIOR LEADERS
CAN YOUR ORGANIZATION CONTRIBUTE?
Please contact the Center for Financial Professionals today to discuss how we can deliver your thought-leadership at the event, help you generate leads, and provide you with unique networking and branding opportunities. For more information on what we can offer, please contact chris.simou@cefpro.com or call us on +44 (0) 203 994 6987 where a member of the team will be happy to tailor the right package for you.

Can I present at the Vendor & Third Party Risk Europe Summit?
Yes, the Center for Financial Professionals are happy to discuss speaking opportunities at the Vendor & Third Party Risk Europe Summit. For further information on this please contact alice.kelly@cefpro.com or call us on +44 (0) 20 7164 6582.
Are there any rules on the dress code?
Business attire is requested. The Summit is a formal opportunity to network with like-minded professionals and to gain knowledge from the industry's finest risk management experts.
What is the cost and what is included in the registration fee?
We offer incentives for 'early bird' registrants of the Summit, as outlined on our pricing structure. Registration includes breakfast, refreshment breaks, lunches, the cocktail reception at the end of the day, full access to the sessions and exhibition area. Presentations from sessions are also available, subject to speaker approval.
Where can I find the Summit documentation and speaker presentations?
All registered attendees will receive an email with access to documentation and speaker presentations after the Summit* We will work with our presenters to include as many presentations as possible on our App during the Summit. *Please note that our speakers often have to gain permission from their relevant compliance departments to release their presentations. On rare occasions compliance may not allow presentations to be distributed.
Will breakfast, lunch and refreshment be provided?
Yes. As with all of our events the Center for Financial Professionals will be providing brilliant coffee, breakfast, lunch, refreshments, and smaller bites during the networking breaks.
Will there be opportunities to network with other attendees?
There are ample opportunities for networking and interaction throughout the Summit, such as
Breakfast, lunch and refreshment breaks
Cocktail reception at the end of the day (Subject to confirmation)
Q&A, panel discussions and audience participation technology available through the App
Are there opportunities to share my thought-leadership at the Vendor & Third Party Risk Europe Summit?
Yes there are plenty of opportunities for the Center for Financial Professionals to share thought-leadership to the attendees of Vendor & Third Party Risk Europe Summit and our wider risk professionals community. At the event we can distribute your material to the attendees, offer you an exhibition booth, and provide speaking opportunities so that you may enjoy a more prominent presence at the Summit. Visit the Sponsor tab for further information or contact sales@cefpro.com / +44 (0) 207 164 6582.
Are media partnerships available for the Vendor & Third Party Risk Europe Summit?
Yes. As part of a media partnership we can offer a variety of options to increase the branding and awareness of your association, company, certificate, publication or media. We are flexible with what we can offer however we usually:
Provide a discounted rate to attend
Place your logo and profile on the Summit website
Place your logo on promotional content where applicable
Distribute your media/marketing at the Summit
Promote through social media channels
To discuss this further please contact Lauren.carter@cefpro.com or call +44 (0)20 7164 6582
What can I do if I can't attend the event due to COVID-19?
If you are unable to attend the Summit due to national/COVID restrictions, CeFPro would be more than happy to offer you a refund, credit note or the option to transfer the ticket to a colleague who is able to attend.
Representing a financial institution or government body – (E.g. Bank, Insurance company, Asset Manager, Regulator)
Representing an information/service provider (E.g. Consultant, Vendor, Executive Search Firm, Law Firm)
*Prices do not include VAT
*To qualify for the preferential 'early bird' rates, registration must be received by the close of the 'early bird' working day, and payment can be made at the time of registering, or up to a week after registration is made an invoice sent. CeFPro reserves the right to increase rates should payment be delayed significantly. Should a delegate register at a rate that is inaccurate, CeFPro reserves the right to issue an additional invoice for the outstanding amount.

Covid Assurance Policy 
If you are unable to attend the Summit due to national/Covid restrictions, CeFPro would be more than happy to offer you a refund, credit note or the option to transfer the ticket to a colleague who is able to attend.
DOWNLOAD PDF REGISTRATION FORM
Call us on +44 (0) 20 7164 6582